I am doing
Me-Made-May
! I am doing it! I just, uh, forgot to take pictures of myself until today. And now that I finally have, it's such a sad excuse for a self-made outfit: one item, and it's an ancient refashion.
Top: Kohl's a kajillion years ago
Skirt: Refashioned men's button-down
(also, I think, from Dollar-A-Pound, though God knows)
Well, I guess I also made my earrings:
It's become almost silly how frequently I apologize in posts for the long neglectful gaps in my blogpresence, so I won't get into that again. I am, however, trying to get more consistent about blogging, not just on the principle of the thing but for a couple specific reasons:
1) Being invested in the blogiverse makes me more productive craftily--I certainly get up to more when I am reading and commenting regularly, as well as when I'm posting. I think this is partly because reading about other bloggers' projects gives me inspiration and impetus to do stuff, and partly because if I'm talking in blogworld about an undertaking, it makes it into a real obligation--saying you'll do something in public creates an expectation to fulfill!
2) One of my goals, just lifewise, this spring and summer has been to get more stuff done more efficiently. I've been trying to develop habits and routines in my day-to-day life that enable and encourage productivity, and not only would regular blogging constitute a productive habit in itself, having a more routine channel for my Daily Creative Thinking than my current approach--Intermittent Periods of Intensive Daydream, followed by Making Crafting and Art Time By Neglecting Other Things I Should Be Doing--would be...a good thing.
3) Especially right now, living in Boston away from my usual arts 'n crafts and sewing buddies, I really don't get so much in the way of inter-creator-action. Hello, Internet! You would be a better venue for that if I were more consistent in my use of you.
So, what immediate steps am I going to take? For one: involve myself in something ongoing! Me-Made-May, comin' my way, I would continue rhyming here but I lack the wit and am beginning to feel sort of silly...and for another: say I'll do something in public!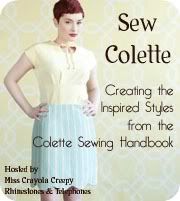 I'm late! I'm late! There were five patterns and I am jumping in on number five! But I finished a Taffy the other day, only to hop onto my blog reader and see the
Taffy roundup
and
Licorice kickoff posts
chez Miss Crayola Creepy, so: as long as I'm accidentally on point, why not go for it? Sewin' a Licorice along with the gang. Internet, I am going to do this. Just watch me go.